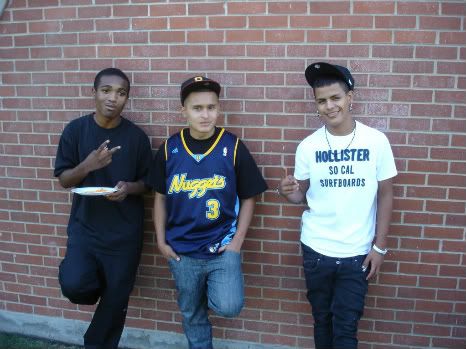 Most Street School students, ages 14-20, have difficult backgrounds.  Students' lives are marked by academic failure, substance abuse, abandonment, physical and sexual abuse, homelessness, teenage pregnancy, and gang affiliation.  Many have criminal records and have had several encounters with the juvenile justice system.  The majority exists below the poverty level in families that live on the welfare system and have no precedent for education.  One-parent homes prevail.  Most have exhausted their opportunities to receive education through the public school system.
Students come from Denver metro neighborhoods that are known for high poverty, crime and drug use rates including Capitol Hill, Park Hill, Five Points, Westwood, Barnum, Globeville, Commerce City, Highlands, North Aurora, and Montbello.  The student population served at the school is divided between African American, Hispanic and Caucasian students.  Students are referred to the school through word of mouth, local social service agencies and churches, parole officers and the public school system.
Meeting the Need:
Approximately 11,000 students drop out of Colorado schools each year, which translates into 29 students per day.  RMFC Advisor  
At the Denver Street School, students are given the one-on-one attention they need to stay in school and complete their high school education with a 10:1 student/teacher ratio.
The dropout rate among Hispanic students is at 30%.   Youth Indicators-Dropouts  
The Street School targets minority students and has had great success with Hispanic students.
For each student that drops out, society pays an estimated $563,000 over his or her lifetime in public subsidies or income supports.  RMFC Advisor 
Over its twenty-year history, DSS has graduated close to 200 students, 80% of which are contributing back through college, the workforce or military, saving society millions of dollars.
Over their lifetime, the average drop out earns $212,000 less than a high school graduate.  Clearing House on Urban Education    
By providing an on-site guidance counselor, career testing and a workforce readiness program, Street School students are given the tools to succeed post-graduation.
According to a Colorado Division of Youth Corrections study of male juvenile high-risk offenders, three-fourths were not attending school when admitted and 50% had reported gang involvement.  The Denver Police Department reports that peak hours for violent juvenile crime are from 2:00 to 8:00 p.m. 
In contrast, the Street School offers all students thousands of hours of positive after-school activities through its athletic and fine arts programs, encouraging students to stay involved, in school, and off the streets.